With the PMA(Photo Marketing Association) tradeshow a month away in Vegas we're sure to see a lot more coming from the camera genre then but Olympus has stunned the world with its the next ultra-zoom compact camera the SP-800UZ.
Firstly its a 14MP camera but what really really grabs your attention is the massive 30x optical zoom. Now obviously despite the fact its a compact it needs the room to house the lens which makes a little bigger than your average compact but still smaller than your SLR's. With 2GB of internal memory and SD expansion you can also video 720p and then output it to your telly via its HDMI out.
It also comes with the usual face detection, image stabilisation and has a 3" LCD panel on the back to view your shots. You can even plug it in and charge via USB, handy if you don't carry your charger around and have access to someone's computer.
Also a smaller 12MP 15x optical zoom camera, the SP-600UZ is coming out alongside it.Both are out in March and will be priced at £369.99 and £259.99.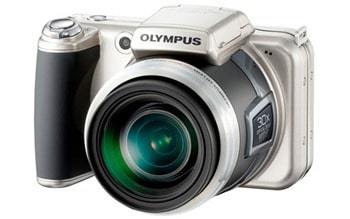 Post from: Mighty Gadget – Gadget and Technology Blog
Olympus SP-800UZ : 30x OPTICAL ZOOM!!!!
Tags: Olympus, SP-600UZ, SP-800UZ
Related posts

This article was originally posted on Mighty Gadget