The Kindle Fire may be absent from the UK but Amazon rewarded those who ordered the UK version of the Kindle Touch by besting its promised release date by a week from 27 April to the 20th. There are reports that those who electronically queued up to order on the first day got their Kindle Touch either on the 20th or the next day after. Early returns seem the mirror the American experience, except for a few forum posts claiming the touch screen is a bit laggy compared to the basic Kindle, confirming the recent review in the Telegraph. While that is true, it seems to be relative. Individuals who have never used a prior generation Kindle don't seem to notice the lag.
The big difference between the basic Kindle and the Kindle Touch is the touch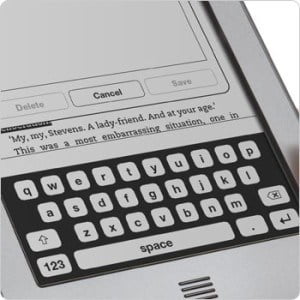 screen. THe touch screen not only makes navagation easier, but opens up the e-reader to additional roles, such as the possibility of acting as a notetaker for handwriting recognition in addition to the virtual keyboard, and the X-Ray advanced search feature that allows for many books to be searched based on the context of the word rather than the characters (lengthwise vs wise for example: X-ray is smart enough to know you wan the term "wise" rather than pulling up every match of the grouping of w-i-s-e) In my opinion, those two features are worth the extra twenty quid.
If you are new to the Kindle line, be sure to check out the "experimental 
features, which include a very basic browser, text to speech and an audio and mp3 player, although if you want to download podcast files you need to do so with a USB connection. In addition the the above features you can email and annotate personal texts and pdfs as well. In fact, the Kindle Touch or any of the keyboard enabled Kindles can serve as very rudimentary tablets in a pinch even to doing email for web based mail services such as Gmail. However, the situation needs to be truly dire as the web browser is quite slow compared to a LED screen.
The price of the wifi only Kindle Touch is £109 and the wifi plus 3G data version is £169.  The smart buy is the wifi only version, especially if you also have a smartphone that is capable of acting as a wifi hot spot.  Unless you have some sort of very odd situation, you should be able to either load content with a wifi connection,  or plan ahead for that trip to the Shetland Islands  by taking advantage of the Kindle Touch's approximately 3,000 book capacity.
Post from: Mighty Gadget – Gadget and Technology Blog
Kindle Touch arrives early to UK
Tags: Amazon, e-reader, Kindle, Touch, Touchscreen, X-ray

This article was originally posted on Mighty Gadget